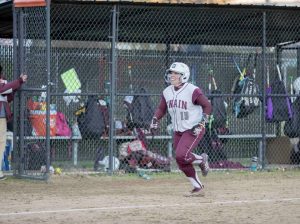 Bryson City – The Braves got on the board first Tuesday, scoring 3 runs in the top of the 1st inning.  Almost identical start for Swain as they had in their loss to  Hayesville on Friday.  This time the Lady Devils answered back, in a big way.  Swain scored 4 in the bottom of the 1st and then added 7 more runs in the 2nd on their way to a 15-3 conference win.
In the bottom of the 1st, Grace Cabe started the inning by reaching on an error.  Kendall Bowers followed Cabe with a single, advancing Cabe to 3rd.  Bowers stole 2nd giving Swain runners on 2nd and 3rd.  Kenzie Eagleman laced a line drive to deep left centerfield scoring both Cabe and Bowers.  Eagleman advanced to 3rd on the throw home, and scored one pitch later on a wild pitch.  Shayne Catolster and Alissa Smith both drew walks.  Kyndle Jones singled back up the middle to score Catolster.
Cabe led off the 2nd inning for the Lady Devils, this time doubling to right centerfield.  Cabe would score as Eagleman tripled to right center.  Again Eagleman scored on a wild pitch.  Catolster doubled and scored when Stacy Griggs singled down the 3rd base line.  Griggs and Alissa Smith, who walked, both advanced on a Alyssa Haymond single, which left the bases loaded.  Ashton Younce coaxed a walk to score Griggs.  Grace Cabe batting for the second time in the inning made it count as she ripped a double to left centerfield, which scored all three baserunners.
Swain padded their 11-3 lead in the bottom of the third.  Kenzie Eagleman led off the inning with another double, followed by Shayne Catolster reaching on an error.  Both runners would score on an Alissa Smith single back up the middle.
In the 4th inning, it was the Lady Devils bench who produced.  Willa Bible doubled to left center, promptly followed by Gracie Edwards who singled to left field.  Then Kele Eagleman scored Bible as she stroked a solid double to left field.
In the circle freshman Stacy Griggs picked up her 2nd win of the season working 4 innings.  In her 4 innings she struck out 7 and walked 2.  Kenzie Eagleman came on to work a scoreless 5th inning, striking out 1.
At the plate the Lady Devils pounded out 15 hits including 7 doubles and a triple.  Kenzie Eagleman finished 3-3 with 2 doubles and a triple, while driving in 3 runs and scoring 3.  Her sister Kele Eagleman was 1-1 with a double and an rbi.  Grace Cabe and Kyndle Jones were both 2-3, with 3 rbi, while Shayne Catolster was 1-2 with 3 runs scored.  Alissa Smith finished 1-1 with 2 runs and an rbi.  Willa Bible and Grace Edwards were both 1-1 as well.