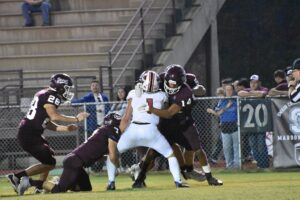 Bryson City – The Maroon Devils kicked off conference play this past Friday with a showdown against defending SMC Champion Andrews.  Both teams made their way to this point on successful nonconference slates, as the Wildcats entered with a 4-1 record while the Devils were 5-0.  In the end the Devils rode their defense to an impressive 20-0 win over the defending Champs.
Swain's defense was stellar all evening, holding the Wildcats to 99 yards of total offense.  Dalton Rose and Eli Aguilar, who both entered the game among the top 5 rushers in the conference, were held to 27 and 24 yards respectively on the night.  Josh Collins, Grady Lewis, Corey Stillwell, James Stroman, Cole Wikle, and Brandon Frost led the defensive effort.
On the offensive side of the ball, the Maroon Devils got a career high 161 yards passing from Reese Winchester.  Winchester was 9 of 24 for the game with a touchdown, coming in the 1st quarter on a 24 yard pass to Keyanthae Graham.   Graham finished with 4 catches for 79 yards, while Josiah Glaspie snagged 2 passes for 43 yards.  Zeke Glaspie, Josh Collins and Brandon Frost had a reception each.
The rushing attack ground out 174 yards on 33 carries.  Josh Collins, who entered the game as the conference's leading rusher, finished with 99 yards on 16 carries and a pair of touchdown runs.  James Stroman finished with 67 yards on 13 carries.
Swain travels to Hayesville this Friday.