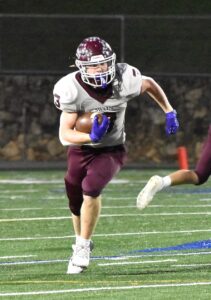 Mars Hill – The Maroon Devils traveled to Mars Hill this past Friday to face Madison.  Swain used another huge night from senior Josh Collins to go with a stingy defense on their way to a 35-16 win over the Patriots.
Collins had another night to remember.  The senior running back notched his second 200+ yard rushing night, and he did it in consecutive games.  To add to the impressive numbers Collins was responsible for five touchdowns.  For the night he finished with 262 yards rushing on 12 carries and 3 touchdowns.  The touchdowns came on runs of 44, 46 and 75 yards.  Collins was also 2-2 passing with 119 yards and a pair of touchdowns, which covered 45 and 74 yards.  Collins hit Corey Stillwell for a 74 yard touchdown and followed that with a 45 yard strike to Keyanthae Graham for a 45 yard score with no time left on the clock at halftime.  Brendon Lanning made good on all 5 extra point attempts.
On the defensive side the Maroon Devil defense was stubborn all night.  They limited Madison to 102 yards rushing on 48 carries and another 57 through the air.  Linebackers Lucas Sutton, Skeet Cook and Josh Collins led the way, while the defensive line of Nse Uffort, LD Lequire, Grady Lewis, Drew Scaggs and Andreas Cisneros were outstanding in the trenches.
The Maroon Devils enter SMC play this week as Andrews comes to Bryson City for the conference opener for both squads.