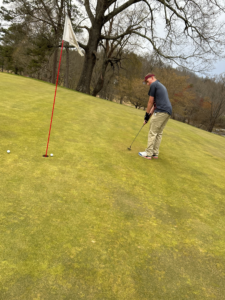 The Swain High Golf team had back-to-back 9 hole matches this week, Monday (3/20) at Sequoyah National and Tuesday (3/23) at Chatuge Shore. The first match the team finished third overall with a team score of 242. Leading the charge was Sophomore Jaden Wade who finished with a 59. Finishing second was Junior Wyatt Potts with a 60, third Senior Braylon Aldridge 61, and finishing out the top four was Junior Lucas Sutton 62. Also competing was Senior Nathan Bogdanowicz finishing with a 63.
On Tuesday, the team traveled to Hayesville and finished in second place (227) behind first place Robbinsville (206) and third place Andrews (229). In his first high school match, Freshman Skeet Cook fired a 51 leading the young Devils team. He had the highlight of the day by making a birdie from 50 yards out. Jaden Wade finished his day with a 58, Sophomore Landon Harrison 59, and Sophomore Clay Seagle 61. Also competing was Wyatt Potts finishing with a 62.
"Each day we are getting better and more competitive," stated Coach Josh Crisp. "Golf is a game that you cannot win but only play. You are competing against par and each course creates different challenges that this team tackles head on. It is enjoyable to watch these young men work on their golf game."
The team will be at Smoky Mountain Country Club on Tuesday March 28th. Tee time is set for 3:30 pm.