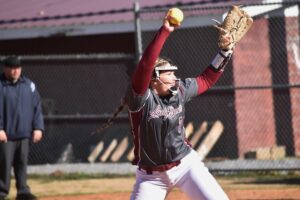 Bryson City – The Lady Devils hosted Asheville Monday in their first true home game of the season.  Swain wasted little time building a commanding lead in front of their home fans, as they scored 8 runs in the first on their way to a 16-1 win.
Swain got another strong day at the plate from freshman Carley Teesateskie.  Teesateskie went 2-3 and drove in 3 runs.  Fellow freshman Rylee Rawls also went 2-3 driving in a run.  Kennedy Anthony doubled home a pair of runs.
At the top of the lineup Kiersten Smith and Kaley Parker set the table, as each scored a pair of runs, as the duo reached base 6 out of their 8 total at bats.  Courtesy runners Maddie Bird and Molleigh Woodard scored 5 runs between them.  Bird had 3 stolen bases, while Woodard added a stolen base of her own.
In the circle the duo of Rylee Rawls and Hannah Shuler were dominant.  Rawls picked  up the win working 3 innings while yielding 1 hit 1 walk and striking out 4.  Shuler worked 2 innings giving up a hit 2 walks and striking out 4.