Bryson City – The Maroon Devils made it 21 straight home playoff wins this past Friday with a 26-8 win over Winston Salem Prep.  Swain built upon their success from their win over Cherokee by continuing to run the ball and play solid defense.  The Maroon Devils outrushed the Phoenix 292 yards to 12, while limiting Winston Salem Prep to one touchdown.
Swain got on the score board in the first quarter.  Reese Winchester hit Aiden Southards for a 17 yard touchdown.   The Maroon Devils got their next touchdown on a Josiah Glaspie 13 yard scamper.  Oliver Reyes made both extra points to give Swain a 14-0 lead, which they would carry into halftime.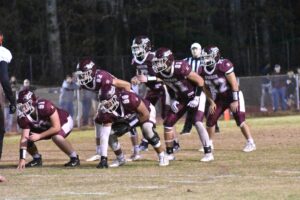 Reese Winchester was on the receiving end of the Devils next score, as Josh Collins found Winchester wide open for a 19 yard touchdown pass.  Swain failed on the two point conversion attempt, leaving the score 20-0.
Winston Salem Prep got their lone touchdown in the 3rd quarter on a short one yard run.  The two point attempt failed.
Swain's Josh Collins rounded out the Swain scoring with a 4 yard plunge to open the 4th quarter.  The extra point attempt failed, making the score 26-6.  Winston Salem Prep added a safety for their final score.
Junior Josh Collins finished with a season high 122 yards on 17 carries.  Josiah Glaspie added 83 yards on 14 carries.
The Maroon Devil defense picked off 4 passes, recovered a fumble and has 7 sacks on a busy evening.  Austin Jenkins, Josiah Glaspie, Josh Collins, and Reese Winchester all had interceptions while Grady Lewis recovered a fumble.  Lewis also had 3 sacks, with Josh Collins, Blake Sain and Trenton Jones all recording a sack.