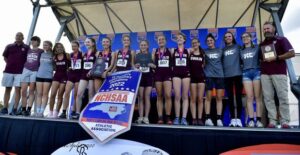 Kernersville – Swain entered Saturdays NCHSAA State Cross Country Championships as a favorite.  In the end they took the State Championship by the largest margin since the first year of the 1A Championships.  The Lady Devils tallied 59 points on the day, easily outdistancing runner-up Eno River Academy, who finished with 114 points.
It marks the second straight State Championship for the Lady Devils Cross Country team.  In addition it extends the Swain streak to 5 straight State Titles in running sports.  The string is made up of State Titles in track (20), cross country (21), indoor track (21-22), outdoor track (22) and now cross country in 2023.
The winners podium had a Swain centric flair as the State Champion runner was Dvdaya Swimmer of Cherokee.  State runner-up was Amaya Hicks of Swain and third was Annie Lewis of Swain.
Swain results