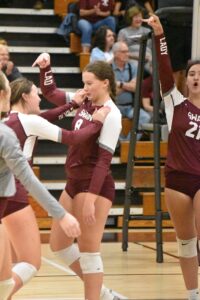 Bryson City – The Lady Devil volleyball team made it two in a row Thursday with a 3-0 win over Highlands by the scores of 25-23, 25-19 and 25-19.  Just one night earlier Swain took a 3-2 win over Hiwassee Dam.
Against Highlands freshman Kennedy Anthony had a big night for the Lady Devils.  Anthony finished with 14 kills and 6 aces (unofficially).  Gracie Sutton finished with 8 kills.
In the first set Highland's India Clark reeled off 11 aces. Clark's 11th ace of the set tied the set at 21 each.  From that point throughout the remainder of the next two sets the Lady Devils allowed only one more ace from Clark.  Gracie Sutton, Kaley Parker, Maddie Spates, Rylee Rawls, Makayla Cody and Kennedy Anthony did a wonderful job with the adjustments made by Coach Lydia Sale and her staff that limited the impact of Clark's serving.
Along the net Haileigh Woodard, Kinsley Hyatt and Gracie Sutton did a good job in blocking or altering Highlands hitting attack.  Setter Kiersten Smith was on point all night in setting up the Lady Devils offense.
It was a solid win for the Lady Devils against a good Highlands squad.