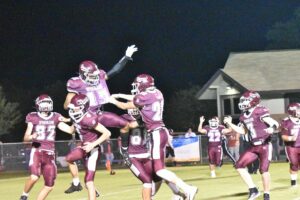 Bryson City – It was a packed house this past Friday as the Maroon Devils hosted Pisgah.  The meeting marked the first time the two schools have played each other since the early 1990s.  In that instance the Bears came away with two wins in back to back years.  On Friday the Maroon Devils continued their solid play and successful run through their nonconference schedule with a thrilling 20-7 win over Pisgah.
A big play by the special teams unit set up the Devils for the game's first score.  After holding Pisgah near midfield the Bears punted the ball back to the Devils.  Josh Collins fielded the punt on his own 18 yard line.  Collins found daylight down the home sideline and raced for 57 yards, finally being pushed out of bounds at the Pisgah 25 yard line.
From the 25, it would take the Maroon Devils 7 plays to find the endzone.  Facing 4th down on the Pisgah 4 yard line, Swain offensive coordinator Austin Cooke went into his bag of tricks.  The Devils gave the ball to Gabe Lillard on a reverse, Lillard then found a wide open Reece Winchester in the back of the endzone for Swain's first touchdown.  Brendan Lanning made the extra point to give Swain a 7-0 lead at the half.
In the 3rd quarter it would be another huge special teams play that set up a Swain score.  Lucas Sutton blocked a Pisgah punt and recovered the ball, giving Swain great field position on the Pisgah 28 yard line.  From there the Devils needed 6 plays to notch their second score of the night.  Reece Winchester did the honors with a 1 yard quarterback keeper.  Lanning again hit the extra point to give Swain a 14-0 lead.
Pisgah would score early in the 4th quarter on a short Aaron Clark run, that was set up by a 54 yard run by Breydon Reynolds.
Swain's final score of the night came from the Maroon Devil defense.  With Pisgah backed up to their own 6 yard line the Maroon Devil defense came up big.  Linebacker Blake Sain pressured the quarterback and was able to hit the quarterback's arm causing the pass to fall into the waiting arms of Josiah Glaspie, Glaspie walked in from 6 yards out for the touchdown.  The extra point failed when the snap forced Brendan Lanning to pick the ball up and try to score, he would be stopped short, leaving the score at 20-7.
The Maroon Devils finished with 167  yards on the ground, while limiting Pisgah to 107 yards.  Josh Collins led all rushers with a game high 73 yards on 16 carries.  Gabe Lillard added 62 yards on 6 carries.  Collins, Lillard and Josiah Glaspie all came up with interceptions for the Devils.
Swain will host Dade County this Friday in their final nonconference matchup of the season.