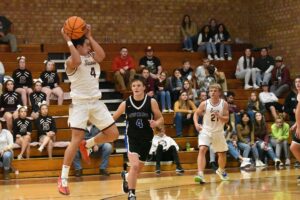 Bryson City – The Maroon Devils opened their 2021-22 basketball season this past Monday as they hosted Smoky Mountain.  Swain came away with a 92-66 win behind the strong play of a trio of seniors.
Smoky came from behind to take the lead just before the close of the first quarter, and closed the quarter out leading 23-21.  But it would be the last lead of the game for the Mustangs.  Swain went on a 26-0 run over the first 7 minutes of the second quarter to break the game wide open.  At the half the Devils were up 47-27.
Senior Isaiah Collins finished with a game high 31 points.  Fellow senior Donnavin Groenewald finished his night with 21 points, while senior Carter Kirkland had 13 points.  Kirkland and Groenewald finished with 5 assists each.  It was a night where 11 Maroon Devils scored and all 16 saw action.
(All stats listed are unofficial)