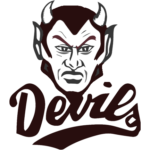 Bryson City – Swain opened the 2021-22 basketball season this past Monday with a full slate of games as they hosted Smoky Mountain.  Both junior varsity teams were victorious in the season opener.  In the women's contest the Lady Devils were as chilly as the weather outside, and never were able to find their shooting stroke.  Smoky Mountain came away with a 58-25 non conference win over the Devils.
Swain shot a chilly 20% from the floor and committed a staggering 41 turnovers.  The Lady Devils held their own in the first half trailing 18 to 11 at the half.  But the 3rd quarter would spell doom for Swain as the Mustangs went on a 17-0 run to open the second half and take a commanding 35-11 lead through the first three quarters.
Senior Savana Smith led the Lady Devils with 7 points, while Maddie Spates added 6, Arizona Blankenship 5, Mazie Helpman 4 and Kierston Smith 3.  Savana Smith also had a team high 6 rebounds and a pair of steals, while Mazie Helpman dished out 3 assists.