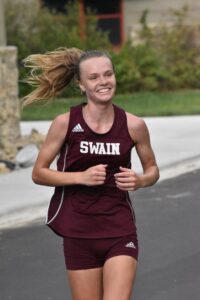 Bryson City – While both of her semi-famous parents reached the top during their coaching careers, Arizona Blankenship casually cruised into the top spot in only her fourth high school cross country race.  It might be safe to say that the youngest sibling of Neil and Sonya Blankenship has made the most of her brief high school career.  This past Saturday AZ, as she is called, set a new personal record for herself, in doing so she broke the school record, for the second time in four races.  But of bigger importance her time of 18:51.80 was the best in the state in the NCHSAA 1A ranks for this year.
So when she enters her next race, AZ will do so as the top 1A runner in the state.  A feat no female cross country runner in school history has pulled off. So far on the season she has broken the school record in her first race, won the Cross Country Carnival in her second, broke the school record again in running the fastest 1A time in the state in her third.  Not a bad start to a career.  On top of all of that, she is anchoring her team to one of the best starts in school history.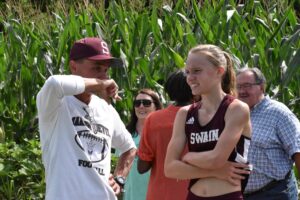 Like so many top athletes AZ makes it look effortless when she runs.  But that belies the truth, which is she is relentless in her training, which usually takes place under the watchful eye of her father Neil, who ran cross country at Mars Hill during his college days.  Her early success is payoff for countless hours and miles of training time she has put in over the past years.
AZ's success is not surprising, after all she basically re-wrote the middle school record books.  So the expectations were high for Blankenship heading into her freshman year.  But to be honest I doubt even the most optimistic projections predicted this kind of start.
I mean think about it – breaking the school record that had stood since 1990, twice, winning the WNC Cross Country Carnival, and now being ranked number 1 in the state, and she did all that while being a full time starter, as a freshman on the Lady Devil volleyball team – honestly she is just getting started.  And we all get to come along for the ride!