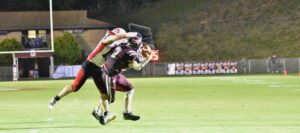 Bryson City – Friday's matchup between Franklin and Swain will go down as an instant classic.  It was definitely a tale of two halves though, as the Panthers rushed out to a 21-0 lead in the first half, and the Devils scoring 14 unanswered second half points.  In the end Franklin took a hard fought 21-14 win.
In the first half the Maroon Devils had no answer for Franklin quarterback Chris Maguire.  Maguire torched the Devils with three long runs, each of which helped keep a Panther drive alive.  For good measure he tossed a 13 yard touchdown pass as well.  Franklin scored their other points on Ty Handley runs to build their 21-0 first half lead.
The Maroon Devils made adjustments at the half, and those adjustments payed off as the second half belonged to Swain.  On the defensive side the Devils kept Franklin at bay and the offense found it's rhythm.
Junior quarterback Gabe Lillard finished with a career high in passing yardage and completions.  Lillard found Donnavin Groenewold for a pair of touchdown passes.  The first came on a 21 yard pass that put the Devils on the scoreboard with 8:34 remaining in the 3rd quarter.  The last came on a beautifully executed fade pass from 4 yards out.  Gavin Lanning made good on both extra points.
For the game Lillard finished with 151 yards on 9 of 19 passing.  Groenewold was on the receiving end of 7 of those completions for a career high in receptions.  The 7 catches went for 100 yards.  Lillard also finished with a team high 85 yards on 18 carries on the ground.
Carson Taylor keyed the Swain defense with 11 tackles.  Nathan Bogdanowicz added 10 tackles while Cooper Hyatt finished with 9.
The Maroon Devils also missed out on three redzone opportunities.  Twice they were stopped on downs by the Panthers and the other time they fumbled.
Swain will be back in action this Friday as they will host Mountain Heritage.