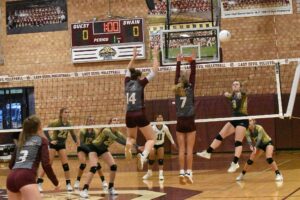 Bryson City – One of the most important elements of a volleyball match is how a team does when it is serving.  If both teams are exchanging serves then you have a back and forth one point affair.  But if one team is able to go on a run with their serve then they can distance themselves from their opponent.
Tuesday, and for much of the season, the Lady Devils fell victim to Hayesville runs.  What resulted was the Jackets taking a 3-1 win by the scores of 25-23, 23-25, 25-10 and 25-21. To illustrate the point the Jackets went on an 11 point run in the 3rd set and added two 5 point runs to take the 25-10 win.  Then in the 4th set Hayesville went on an 8 point run which saw them go from trailing 12-7 to taking a 15-12 lead, one which they would not relinquish.
But let's make one thing crystal clear for the Swain faithful.  This Lady Devil squad is a different breed, they simply do not quit.  On multiple occasions last night, and in other matches, players collided or nearly collided diving on the floor to get balls.  They play with a passion and energy, that to be frank, is fun to watch.
Senior Savana Smith finished with an unofficial 12 kills and 5 blocks to lead the Lady Devils.  Freshman Gracie Sutton finished with 8 kills, while Maddie Spates and Haileigh Woodard had 4 each.  And no stats will do justice to the effort and hustle that Kierston Smith, Amaya Hicks, Arizona Blankenship, and Kaley Parker put into last nights match.