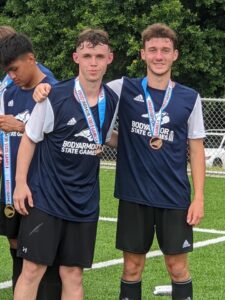 Special to the MDN – High School Soccer players from across the state competed in the Body Armor State games in June to determine which region was the best in the State. Swain was represented by Zachary Cline and Landon Matz on the boys side and Isabelle Green, Anna Gray and Karena Cline on the girls side. Soon to be high schooler Karena Cline was allowed to play due to some last minute injuries and a few players not being able to play.
The West girls team coached by Swain's Scott Cline and Hendersonville's Kayla Lindsey consisted of all traditional public school players. They kicked off play on Saturday at 8 am versus a very strong North team. Many players coming from the strong schools and clubs from the Research Triangle area. The teams finished the game with a 2-2 tie. Swain player Isabelle Green would go down with an injury in this game which would take her out of being able to play the rest of the weekend. At 11:30 the West team would take on the South team with many players from the Greensboro area. This game would finish with a 1-1 tie.
On Sunday the girls would take on the East team taking a 3-2 win which would put them in the Gold/Silver medal championship game against the South. In the championship game, five minutes into the second half there would be a long rain delay as the West was winning the game 2-1. After the delay, the South would capitalize on the delay and take the 3-2 win. The West would finish with Silver Medals. "Overall it was a great experience for me and for all the girls in the West. Many of the girls had played against each other and were now getting the opportunity to play as a team." said Head Coach Scott Cline. "It was great to show that the girls from Western North Carolina could come out and compete against some of the top players in the state. Many were getting ready to play at the Division I level. Overall we had a really good showing."
On the Boys side the West team would consist of half traditional public school players and half charter school players. The team was coached by Bandy's Ric Lester and Fil Wilkinson. They started their Saturday off with a 2-1 loss to the South team. They rebounded to take a 1-0 win over the East. On Sunday they would take on the North team losing 3-1. It would put them into the Bronze medal game later in the day. They would play the full regulation and overtime with a 2-2 tie. They would go on to penalty kicks, winning the Bronze medal after the PKs.
"I feel that it was good for our Swain and the Murphy players to see the higher level of play and to get to play with and against players that can play at that level," said Cline. "I truly enjoyed having the opportunity to coach these players and to coach with Coach Lindsey. A lot of these players have a strong future in playing soccer in college."
First Picture: Anna Gray and Karena Cline – Silver Medalists (Not Pictured Isabelle Green)
Second Picture: Zachary Cline and Landon Matz – Bronze Medalists