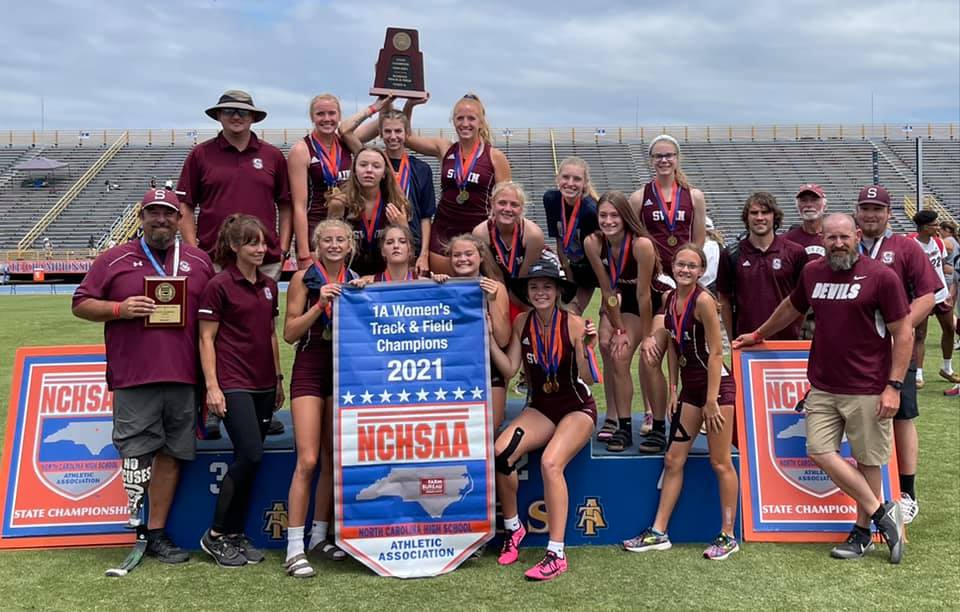 Greensboro – Last Friday the Lady Devil track team secured their 2nd State 1A Championship.   Swain easily outdistanced Pamlico County to take home the top honors in the state.  The Lady Devils tallied 78 points on the day, while Pamlico was 2nd with 52 points and Research Triangle was 3rd with 46 points.
Swain got 3 individual State Championship performances, which were worth 10 points each in team scoring.  Monica Riordan (100-meter hurdles), Jessie Lohmann (300-meter hurdles) and Amelia Rogers (Pole Vault) all brought home Individual State Championships.
But the bulk of the Lady Devils success on the day came in events where Swain participants finished in the top 8.  Scoring of events goes 1st-10, 2nd-8, 3rd-6, 4th-5, 5th-4, 6th-3, 7th-2 and 8th-1. Swain scored points in 11 out of the 18 total events, which made all the difference in the team score.
Senior Natalie Stuckey finished 2nd in the discus with a toss of 102'8″.   Reah Dingle and Jessie Lohmann had 4th place finishes on the day.  Dingle in the Triple Jump with a jump of 33'1″.  Lohmann finished 4th behind Monica Riordan in the 100-meter hurdles with a time of 16.78.
Mazie Helpman took 5th in the High Jump by clearing 4'8″.  Then Amaya Hicks and Anna Gray scored 6th place finishes in the 800-meter run and pole vault.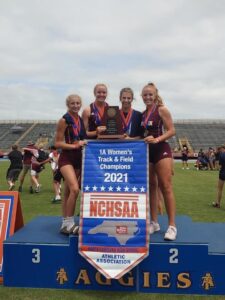 Swain scored points in each of the relay events.  The 4×200 (Mazie Helpman, Jenna Marr, Jessie Lohmann, Monica Riordan) and the 4×400 (Emily Ulaner, Jenna Marr, Jessie Lohmann, Amaya Hicks) teams were each 3rd, while the 4×100 (Mazie Helpman, Jenna Marr, Amaya Hicks, Monica Riordan) finished 4th and 4×800 (Gracie Monteith, Lily Bjerkness, Emily Ulaner, Amaya Hicks) finished 5th.