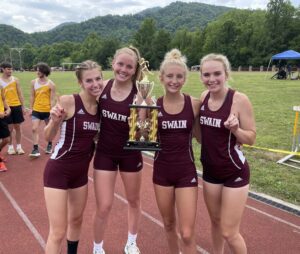 Cherokee – The Lady Devil track team garnered the first SMC Championship of the year for Swain High School.  Swain easily outdistanced the rest of the field to take home top honors with 204 points.  Murphy was 2nd with 120 points while Robbinsville was 3rd with 112.
Swain was strong throughout, but distanced themselves with strong showings in the hurdles, relays and distance events.  Monica Riordan and Jessie Lohmann were dominate in the hurdles.  Riordan took 1st in the 100-meter hurdles with a time of 15.01.  Riordan's time of 15.01 was a new SMC record.  Lohmann was just off of that pace finishing 2nd with a time of 16.13.  In the 300-meter hurdles it was Lohmann's turn as she took 1st easily with a time of 48.06.
In the distance events it was Emily Ulaner, Amaya Hicks and Gracie Monteith who stood out.  In the 800-meter run Amaya Hicks took 1st with a time of 2:32.55.  Emily Ulaner was up next as she took 1st in the 1600-meter run with a time of 6:06.89.  Gracie Monteith turned in an pair of impressive 2nd place finishes in both the 1600-meter and 3200-meter runs.
Ulaner, Hicks and Monteith would team with Lily Bjerkness to win the 4×800 relay with a time of 10:50.10.
Swain would also strike gold in the 4×200 and 4×400 relays.  In the 4×400-meter relay it was Amaya Hicks, Emily Ulanar joining Jessie Lohmann and Jenna Marr to take 1st in a time of  4:23.09.  Marr would team with Mazie Helpman, Jessie Lohmann and Monica Riordan to take first in the 4×200-meter relay.  Their time of 1:49.67 was good for a new SMC record.
Amelia Rogers took 1st in the pole vault leading a Swain sweep of the top 3 spots.  Rogers cleared 9'6 to take 1st.  Anna Gray was 2nd by clearing 8′ and Laiken Harvey was 3rd by clearing 7'6.
Natalie Stuckey took 2nd in the discus (108'7) and Mazie Helpman took 2nd in the 200-meters (27.13).