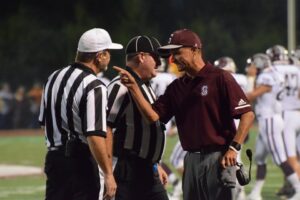 Bryson City – Swain County is getting ready to do something they have not done much over their history, hire a new football coach.  Since 1977 Swain High has had four head football coaches, five if you include interim head coach Eric Stephenson this past year.  During that same span the Maroon Devils have compiled an amazing 405-158 record, which translates to 71.9% winning percentage.  So there must be something to be said for continuity in a program.
Tuesday Head Football Coach Neil Blankenship announced that he is stepping down from that position effective immediately.  Blankenship has been involved in the Maroon Devil football program for well over 20 years, serving as Defensive Coordinator for Sam Pattillo, before taking over the head job when Pattillo stepped down.
In his eight seasons at the helm Blankenship compiled a 79-31 mark, which is good for a 71.82% winning percentage.  The Maroon Devils also won 4 Smoky Mountain Conference Championships and appeared in the Western finals 3 times under Blankenship, finishing as State 1AA Runner-up in 2012.  In four of his eight seasons the Devils won 10 or more games under Blankenship.
Blankenship finishes his career 3rd on the all time wins list, behind only Boyce Deitz (201) and Rod White (94).  His winning percentage is also 3rd on the all time list.
"It has been an honor to have been the Head Football Coach at Swain, a dream come true really."  Commented Blankenship.  "I want to take this opportunity to thank our community, our coaching staff, and our players for their tremendous support and belief in me over my entire coaching career, as well as allowing me to fulfill a dream come true."
Although he is stepping down as Head Football Coach he will remain as Athletic Director for Swain High School.