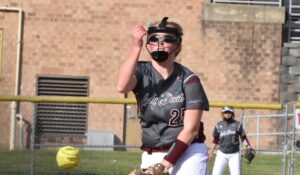 Hayesville – Senior pitcher Stacey Griggs hit another career milestone this week.  In the Lady Devils 7-0 win against Hayesville Griggs notched the 300th strikeout of her career.  It puts Griggs in select company as one of only 4 Swain pitchers to record 300 or more strikeouts for their career.  The others are Shelby Parker (820), Sarah Davis (668) and Kristen Cook (304).
Griggs entered Tuesday's game with 295 strikeouts for her career.  She notched number 300 in the second inning as she struck out the side for number 300.
For the day, Griggs, put together one of her best pitching performances, as she finished with a career high 17 strikeouts, just two off the school record.  The 17 strikeouts moved her ahead of Kristen Cook and into 3rd place with 312 k's.  It also left her with 103 strikeouts on the season through 9 games.