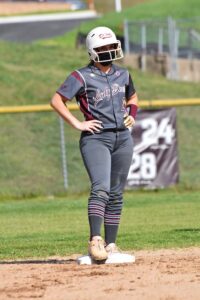 Bryson City – The Lady Devils used a huge 9 run third inning to pull away from Hayesville and take a 14-3 win.  Swain tallied in every inning, building a 14-0 lead before the Jackets added 3 runs in the top of the 5th inning.
In the 3rd the Lady Devils sent 13 batters to the plate.  Ashley Stevenson started the inning with a walk.  Kele Eagleman doubled and Hannah Epperson was hit by a pitch to load the bases.  Hannah Shuler promptly doubled to the gap in left centerfield.  One out later Maddie Spates doubled, Brayden Taylor singled, Savana Smith singled, Stacey Griggs singled and then Stevenson doubled in her second at bat of the inning, and was followed by a single from Eagleman in her second at bat.  Swain would score 9 runs on 8 hits a walk and a hit batter.
Those runs would be more than enough for Stacey Griggs who picked up her 2nd win of the season in the circle.  Griggs struck out 8, walked 1 and scattered 4 hits, while none of the runs scored by the Jackets were earned.
Maddie Spates went 3-3 on the day scoring a pair of runs and driving in a pair.  Savana Smith had a pair of hits and drove in 4 runs, while Griggs and Hannah Epperson each had 2 hits and 2 runs batted in on the day, Kele Eagleman also finished with a pair of hits while driving in a run.