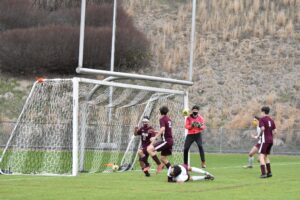 Bryson City (Special to the MDN) – The Maroon Devils Men's Soccer Team hosted the Thomas Jefferson Classical Academy Gryphons on Tuesday in the first round of the NCHSAA State playoffs. Thomas Jefferson is a Charter School from Rutherford County. The Devils would get on the board first eight minutes into the game when Senior Chase Burrell would find Sophomore Matthew Gray for a goal. Two minutes later the Gryphons would score their first goal of the night off a corner kick. Six minutes later they would score once more. With thirteen minutes left in the half the Gryphons would go up 3-1.
In the second half the Gryphons would add two more goals off a long throw in and off a Penalty Kick when Swain committed a foul in the box. With five minutes left in the game Sophomore Landon Matz would add a goal finalizing the scoring. The Gryphons would take the 5-2 win. "I was proud of our players. They battled all the way to the end. Thomas Jefferson has a really good team." said Head Coach Scott Cline. "We always know when we play one of the charter schools from a bigger area that the team is going to be good."
On defense, Senior Booth Bassett led the way with 12 Clears/Steals. He was followed by Senior Anthony Reyes and Junior Levi Trantham each with 5. In goal Senior Noel Wolf had 9 saves. The Player of the Game for the Devils was Senior Booth Bassett. "Booth played some tough defense on the back line." said Coach Cline. "He played well against a tough offensive team." The Devils finish their season at 9-1 in conference, 10-3 overall and as the Smoky Mountain Conference Champions.