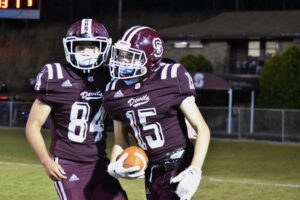 Bryson City – The Maroon Devils entered Friday's contest looking to bounce back from their first loss of the season.  Rosman entered the game looking for their first win of the season.  Initially the game appeared as though it was going to be close as the Tigers held a 8-6 lead midway through the second quarter.  But things would change quickly as the Maroon Devils reeled off 36 unanswered points to take a 42-8 win over Rosman.
It was Homecoming and the home opener for the Maroon Devils.  Swain wasted little time, taking the opening kickoff and mounting a 6 play 79 yard drive that was capped by a 1 yard Damian Lossiah touchdown.  The extra point failed leaving Swain on top 6-0.
Rosman found an answer though on their first possession of the game.  The Tigers chewed up the remainder of the 1st quarter, scoring their first, and as it turned out their only touchdown of the game, on the first play of the 2nd quarter.  Tyler Stamey score from 1 yard out for the Tigers.  Stamey also ran it in for the two point conversion putting Rosman on top 8-6 with 11:58 to play in the 2nd quarter.
The Maroon Devils took advantage of good field position and scored twice before half.  The first coming on a Damian Lossiah 7 yard run, which was set up by Cooper Hyatt's punt return of 47 yards.  Lossiah also carried it in on the two point conversion.  Moments later Lossiah scored again on a 1 yard plunge.  Gavin Lanning kicked the point after to put Swain up 21-8 at halftime.
Lossiah added his fourth touchdown of the night to open the 3rd quarter.  Lanning added the point after giving Swain a 28-8 advantage.
Carson Taylor forced a fumble off of a Rosman pass, alertly Gabe Lillard picked up the fumble and returned it for another Swain touchdown.  The point after left Swain with a commanding  35-8 advantage to end the 3rd quarter.
Andrew Chavez capped the Swain scoring with a 1 yard touchdown run.  Lanning made good on the point after to give Swain their final score of the night at 42-8.
Damian Lossiah finished with a game high 75 yards rushing on 11 carries to go along with 4 touchdown runs.  Lossiah was also efficient through the air completing 3 of 6 passes for 51 yards.  Cameron Blankenship had 2 catches for 18 yards and Cooper Hyatt had one catch for 33 yards.
On defense Elijah Watty was in on 10 tackles, Aiden Allison 9 and Andrew Chavez 8 for the Devils.   The Swain defense forced 5 fumbles recovering 4 of those and intercepted a pass.