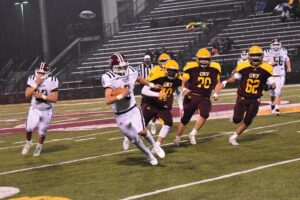 Cherokee – It was a long time in coming, but the Maroon Devils opened their 2020 campaign this past Friday.  The shortened season meant the Devils opened their season in conference play, with a trip  to Cherokee.  Before they even suited up the Devils, and Braves for that matter, had faced a ton of obstacles.
For the Devils though the path seemed particularly daunting, with low numbers and without their head coach, not to mention the steady rain falling Friday in Ray Kinsland Stadium.  If any of that was supposed to have bothered the Devils, someone forgot to tell them, as they turned in what is best described as a typical Swain performance.  Swain used a steady run game, balanced between four different players, and a stingy defense as they tallied an impressive 34-0 season opening victory.
Swain rushed for 220 yards on a cold wet night.  Senior quarterback Damian Lossiah paced Swain with a game high 69 yards on 17 carries and 3 touchdowns.  Gabe Lillard and Carson Taylor each finished with 55 yards and a touchdown to their credit, while Donnavin Groenewold added 42 yards on just 3 carries.
Anthony Allison paced Cherokee with 56 yards on 15 carries, while Donald Bradley had 47 yards on 18 carries.
The Swain defense held Cherokee to 116 yards on the night, and forced 3 turnovers.  Sam Bernhisel was in on 7 tackles, while Lillard and Taylor each had 6.  Braylon Aldridge and Groenewold added interceptions and Lillard recoverd a fumble.