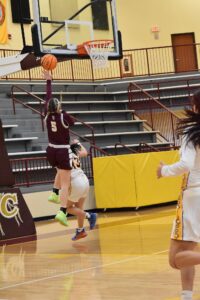 Cherokee – The Lady Devils lost last Friday to Cherokee 64-52 in conference action.  Even with that it was a monumental night for junior forward Mazie Helpman, who surpassed the 1000 point mark for her career at Swain.
Helpman entered the contest 8 points shy of 1000.  She quickly took care of business notching her 10th point just before halftime.  Helpman finished with 14 points, putting her at 1006 points for her high school career.
Cherokee got a 30 point performance from Leilaya McMillian in taking the win.  Deante Toineeta added 16 points for the Braves, who broke open a close game with an 15-8 run over the 3rd period.
Savana Smith paced Swain with a team high 19 points and 13 rebounds. Kaylynn Johnson added 15 points for the Lady Devils.