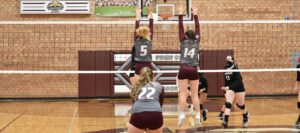 Bryson City – The Lady Devils concluded the volleyball season last Thursday by hosting Hayesville.  Hayesville took the match by the scores of 25-19, 24-26, 25-21 and 25-15.  It was the final match of the season for both squads as Murphy and Rosman were the only two SMC schools to make the playoffs.
The first three games were tight as the two teams traded leads and runs.  But it was Hayesville who came up with bigger runs, with a stretch of 6 straight points in the 1st set and 7 straight in the 3rd set, those runs provided the Jackets with the fuel they needed to take both sets.
Jenna Marr, in her final game as a Lady Devil, finished with 22 kills and 8 blocks (unofficially), while Savana Smith finished with 10 kills 3 blocks.
Middle School – In middle school action the Lady Devils fell 2-1 to Hayesville by the scores of 25-23, 15-25 and 16-14.