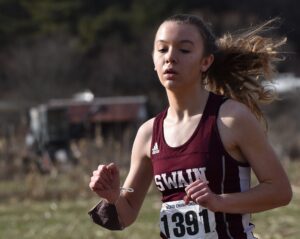 Kituwah Farm – Swain took the Smoky Mountain Conference Championship on Wednesday.  The Lady Devils finished with 31 points, followed by Hayesville in 2nd with 59 points, Rosman took 3rd with 63 and Hiwassee Dam was fourth with 64 points.
Swain sophomore Gracie Monteith ran away from the field to take top honors on the day.  Monteith finished with a time of 20:28.66, a full minute ahead of Jaylynne Esquivel of Cherokee who finished second with a time of 21:29.50.  Kayson Krieger of Hayesville was 3rd, with Emily Ulaner coming in 4th, Kiara Anderson was 5th and Lily Bjerkness was 6th.  All of these runners were named All Smoky Mountain Conference.  Swain's Gracie Monteith was named the Smoky Mountain Conference Runner of the Year for her performance.
Rosman's Jaida Ansari, Marley Metcalf and Emma Abram along with Ava Barlow of Robbinsville, Ashlyn Stroupe of Murphy, Lila Roberts of Hayesville, Laiken Harvey of Swain and Katie McNabb of Hiwassee Dam were all named Honorable Mention All Smoky Mountain Conference.
Full Results: