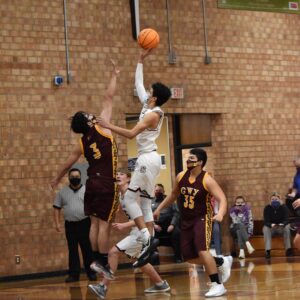 Bryson City – Swain built a 13 point advantage over the first 16 minutes of Tuesdays season opening basketball game with Cherokee, and made it stand up taking a 87-60 win.  The Maroon Devils extended their halftime lead to 23 by the end of the 3rd quarter, and coasted over the game's final 8 minutes to take the conference win.
Cameron Blankenship and Carson Taylor sparked the Maroon Devils off the bench, in the second quarter.  Blankenship scored all 9 of his points in the 2nd frame, while Taylor had 5 points and 3 assists.  Swain outscored the Braves by 13 in the second quarter.
Swain's Judaiah Littlejohn led all scorers with a game high 22 points to go along with 7 rebounds.  Jordan Arkansas paced Cherokee with a team high 19 points.
Isaiah Collins added 18 points and 8 rebounds for Swain.  Cooper Hyatt finished with 9 points and 4 assists.
JVs Take Win – The Maroon Devil junior varsity squad opened their season with a win on Tuesday.  Swain and Cherokee played a tight and close game throughout.  The Devils sank a free throw with 3 seconds left to take a 52-51 win over the Braves.
Note – all stats listed are unofficial