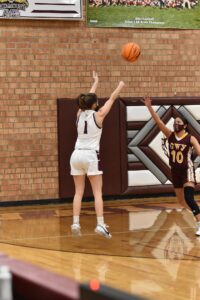 Bryson City – Visiting Cherokee took the season opener from Swain on Tuesday by the score of 73-64.  For three quarters of the game the Lady Devils outscored Cherokee 48 to 41.  But it would be a brutal 2nd quarter that doomed the Lady Devils.  The decisive 2nd quarter saw Cherokee outscore Swain 32-16, to take a 46-26 halftime advantage.
It was the trio of Vivian Ross, Deante Toineeta and Leilaya McMillian who sparked the Braves in the 2nd quarter.  Ross, Toineeta and McMillian combined for all 32 of Cherokee's points in the quarter.  Ross scored 17 of her 18 points in the frame, including shooting 5 of 6 from beyond the 3 point arc.
Swain came to life in the second half.  Star forward Mazie Helpman scored 12 of her 13 points in the 3rd quarter.  The fourth quarter saw Swain slowly and gradually eat into the Braves lead.  Swain would eventually cut the lead to 9 but could not get any closer.
Leilaya McMillian paced all scorers with a game high 23 points to go with 7 rebounds.  Deante Toineeta added 20 points and 5 assists, while Vivian Ross finished with 18 points and 9 rebounds.
The Lady Devils had four players in double figure scoring.  Amaya Hicks and Madde Spates paced Swain with 15 points each, Spates added  9 rebounds, while Hicks dished out a team high 5 assists.  Savana Smith added 14 points and 7 rebounds in limited action due to foul trouble.  Mazie Helpman shook off a slow start and finished with 13 points 9 rebounds.