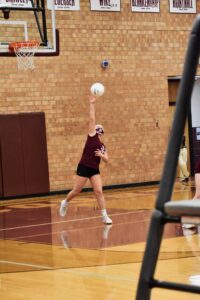 Bryson City – The Swain Middle School volleyball team used a blistering serve and solid attack to sweep Andrews on Thursday by the scores of 25-16 and 25-10.  It was a slow start for the Lady Devils who fell behind early in the first set.  But once they found their rhythm they were dominate.
After falling behind 6-2 in the opening of the first set, Swain Coach Lydia Sale took a quick timeout.  Whatever they discussed during the timeout seemed to work as the Lady Devils promptly tied the match up at 6.  The two teams went back and forth until they were eventually tied at 11.
Swain would take the lead and the momentum on a Addisyn Jenkins ace, making the score 12-11.  From this point on the Lady Devils never lost the lead again rolling to the win.  Jenkins served 3 aces in that span to put Swain up 14-11.  Later in the set the Devils got two aces from Kennedy Anthony and a kill from Izzy Walker to build a 19-13 lead.  Eventually a pair of service aces from Arizona Blankenship and a kill by Riley Rawls put the Lady Devils over the top in the first set.
The second set was all about serving, and the Lady Devils dominated.  Swain would score on 9 aces, which came from Arizona Blankenship (1), Gracie Sutton (2), Addisyn Jenkins (2), Izzy Walker (3) and Lola Collins (1).  Swain was also aggressive at the net tallying 7 kills coming from Riley Rawls (1), Addisyn Jenkins (1), Gracie Sutton (1), Kennedy Anthony (2) and Izzy Walker (2).
Swain is now 4-0 on the season.