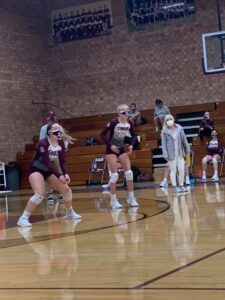 Bryson City – The Lady Devils downed Andrews by the scores of 25-9, 25-21 and 25-12 on Thursday to move to 2-0 on the season.  Swain used solid serving and attacked the net all night in earning the win.  The Devils built up a lead as large as 16 in sets 1 and 3, but had to battle to hold off Andrews in the 2nd set.  In the 2nd set the two teams were tied 11 times, before Swain won out with an ace by Savana Smith.
Jenna Marr paced Swain. In the dominate first set, Marr was dominate for the Lady Devils.  She had 6 kills and 5 aces in the 1st frame.  For the match she finished with a match high 11 kills to go with 6 aces and 5 blocks.
Mazie Helpman added 6 kills and 3 aces.  It was Helpman's solid passing from the back row and off of service receive that keyed the Lady Devils attack.  Savana Smith finished with 3 kills and 4 aces.  Sophomore setter Kierston Smith had 18 assists.
Swain will hit the road next week for trips to Rosman and Murphy, both of which are the only two remaining undefeated teams in the SMC.