Bessemer City – The Maroon Devils traveled to Bessemer City this past Friday, for the 2nd round of the NCHSAA 1AA football playoffs.  It was business as usual for Neil Blankenship and his Maroon Devils, as they turned in another dominating performance.  Using a brutal rushing attack and a stingy defense the Devils cruised to a 38-12 win to advance to the 3rd round.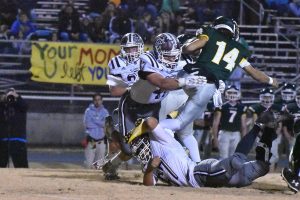 Swain limited Bessemer City to 154 yards of offense, with much of that coming in the late 3rd and 4th quarters.  The Yellow Jackets rushed for 75 yards on 28 attempts and threw for another 79 yards, 38 of which came on a deflected pass that was caught by the Jackets, to set up their first score.
It was another dominating night by the Swain interior of Jake Langston, Charlie Lambert, Cody Long, Nick Millsaps, Conner McCoy, Chase Hughes, Ian Brooks and Thomas Allen.  Langston finished with a game high 14 stops, while Lambert added another 8 and Millsaps 7.  The interior group controlled the line of scrimmage all night, limiting the Jacket running game with gang tackling and hard nosed play.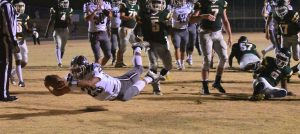 The offensive side was much of the same as with pretty much the same group controlling the line of scrimmage and allowing the Maroon Devils to rush for 252 yards on 37 carries.  On their 3rd touchdown of the night the Maroon Devils used that stellar line play to put together one of their most impressive drives of the season as they marched 91 yards on 14 plays, 13 of which were on the ground.  Swain faced only one 3rd down during the drive which ended with a 2 yard Ian Brooks run.
For the game Damian Lossiah rushed for a game high 135 yards on 12 carries, scoring 2 touchdowns.  Colby Taylor carried the ball 10 times and finished with 58 yards and a touchdown, while Ian Brooks had 36 yards on 10 carries and a touchdown.
Lossiah also connected with Connor Hyatt through the air for a 27 yard touchdown.  Lossiah would finish 3 of 5 for 48 yards.  Hyatt had 2 catches for 33 yards, while Donnavin Groenewold had 1 catch for 15 yards.
With the win the Maroon Devils advance to the 3rd round of the playoffs.  This Friday they will travel to Mitchell, who is the #2 seed in the West.  The Mountaineers defeated Polk County 28-0 this past Friday to advance.  Kickoff is slated for 7:30.