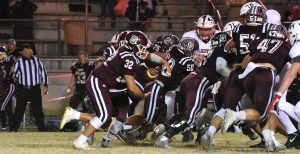 Bryson City – The Maroon Devils notched Swain's 30th straight 1st round home win on Friday.  Much like many of the other 30 over the years, it was in dominating fashion.  Swain would build a 47-0 lead through the first three quarters before visiting Union Academy scored.  In the end the Devils would, pick up their 19th straight home playoff win (all rounds) by the score of 47-10.
Swain's defense was dominate all night, they would limit Union Academy to only 4 yards of offense in the first half.  The Cardinals leading rusher, Isaac King, entered the game as the 3rd leading rusher among State 1A rushers, with over 1700 yards.  The Devils held King to a mere 22 yards on 11 carries.  For the game the Cardinals finished with 77 yards of offense and only 4 first downs.
Jake Langston and Cody Long led a balanced Devils defense with 7 tackles each.  Long added a sack.  Connor Hyatt had 5 tackles and Nick Millsaps, Charlie Lambert and Conner McCoy each had 4 tackles.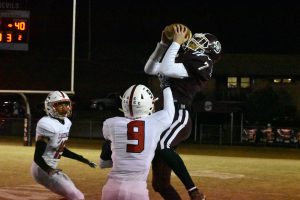 On offense the Maroon Devils scored on their first 7 possessions of the game.  Damian Lossiah ran for a pair of touchdowns and threw for 2 more.  Conner Hyatt ran for a score and caught a touchdown pass. Donnavin Groenewold and Ian Brooks each ran for a score, while Jake Langston hauled in Lossiah's other touchdown pass.  Lossiah finished 3 of 4 for 78 yards through the air, while Connor Hyatt added a nifty 20 yard completion to Robert Green between two defenders.
The win marked the 30th straight home 1st round wins for Swain.  It was also the Devils 19th straight home playoff win (last home loss coming in 2005), and their 60th overall playoff win at Swain County Memorial Stadium, Boyce Deitz Field.
Swain moves on to the 2nd round, where they will travel to Bessemer City, with Kickoff set for 7:30