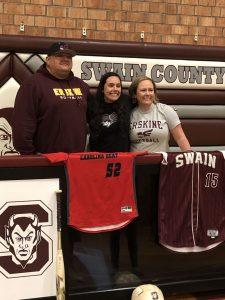 Bryson City (Full Press Release from Swain High) – Swain High School's Kenzie Eagleman has signed on to continue her softball career at Erskine College.  Although she verbally committed a year ago, on Wednesday the Lady Devil standout made it official as she signed with The Flying Fleet.
At Swain Eagleman, who is entering her senior year of softball, has been a starter for the Lady Devils since her freshman year.  She has 94 career hits and a career batting average of .519 with 9 home runs and 91 runs batted in.  Defensively she has proven to be a jack of all trades for the Lady Devils, having played every position on the field at some point in her 3 years.
In a much decorated career, some of her honors include: 3 time NC Softball Coaches Association All-State selection, 3 time All-District 8 selection, and 3 time All Smoky Mountain Conference selection.  She has all been named 2nd team All WNC during her career.
Eagleman's high school coach Toby Burrell had this to say on her signing – "I am extremely happy for Kenzie, I know this has been her dream from the first day she walked onto our campus. Erskine is getting a young lady who is hard working and loves the sport of softball, but on top of that she is an outstanding person.  The entire Lady Devil softball program is very proud of Kenzie and excited for her future, both with her senior year with us and with her future with the Flying Fleet!"
Quote from Kenzie – "I am so appreciative of this opportunity that Coach Hawkins is giving me.  I want to thank everyone who has coached me in some way.  Thank you to everyone who has made me successful in my career.  I wouldn't be here without all of you.  Thank you to my parents for their love and support over the years.  I have been so blessed to have committed and signed to play Division II softball under Coach Hawkins.  I'm so excited for my future and the opportunity she has given me."