Special to the Maroon Devils Network – Swain High's cross country teams competed this week in the Smoky Mountain Conference Championships, which were held in Cherokee.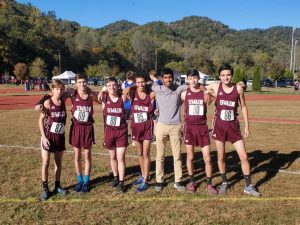 The girls team finished in 2nd place overall, just missing Hayesville by 13 points.  The team was largely successful due to the running of three All-Conference or All-Conference honorable mention runners.  All Conference runners are Gracie Monteith who finished 4th overall with a time of 22:04. Finishing just behind her in 5th place and as well earning an All Conference designation is Amelia Rogers with a time of 22:19.  Emily Ulaner finished 10th overall, earning an All Conference Honorable mention with a time of 22:50. Rounding out the girl finishers were Katie Mae Roland (24:57, 27th place), Erika Wachcha (25:32, 31st place), Kendal Ogle (25:52, 34th place), and Katie Simonds (26:57, 38th place).   The best about this performance is that 6 of the 7 are freshmen and Emily is just a sophomore. Lots of room for growth, lots of potential, and a bright future lies ahead for these girls. Coach Jennifer Chatham…"Coaching such a young team has had its obstacles but I have never had the privilege of coaching a group of girls with such determination and grit.  The future of Swain Cross Country is bright."
The boys fought through injuries most of the season, but those that ran at conference, ran well.  The boys had one runner, Freshman Austin San Souci, earn All Conference Honorable Mention with a 14th place finish with a time of 19:09.  Rider Mattox finished second on the team with a time of 20:42 and a 22nd place finish. Rounding out the runners are Elijiah Bryant (21:12, 27th place), Jaxon McCLung (21:34, 30th place), John Schuler (22:01, 31st place), and Josh Honrbuckle (22:38, 37th place).   Coach Keith Payne…"There is so much potential with Swain County Cross Country. The teams have heart and have battled through injuries, illness, youth, and the hottest September on record to compete at a high level week in and week out. This group of young people will shine over the next few years and will carry all of the lessons learned throughout their lives."
The XC season post season is now underway.  The teams will compete at the NCHSAA Westeren Regional Finals on Saturday, November 2nd in Newton, NC at South Side Park.  The races begin at 2:30 pm. Please come out and support your Swain County XC team. The top four teams and the top 7 individuals (not from a state team) will qualify to run at the NCHSAA 1A State Championship, Saturday, November 9th.