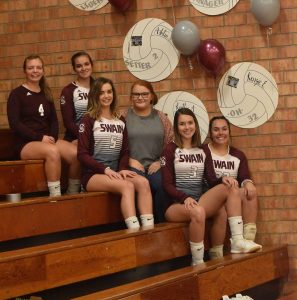 Bryson City – Back on September 10th the Lady Devils played at Hayesville and were swept 3-0 by the Jackets.  It was their first match with out starter Jenna Marr, who sat out due to injury.  Tuesday the Devils had a point to prove.  With Marr back in the lineup the Lady Devils took a thrilling 3-2 win over the Jackets.
It was senior night as the Lady Devils honored their 6 retiring seniors – Ashton Younce, Kaitlin Anthony, Kierra Shook, Katie Winchester, Kenzie Eagleman and Olivia Greene.
After being working through the first 4 sets, the two teams were tied 2-2, leading to a decisive 5th set.  With the two teams tied at 5, in the 5th set, the Lady Devils sprinted to the finish outscoring the Jackets 10-0 to take the final set 15-5.  Jenna Marr served up 4 aces in the set during the run to put the Devils in the lead.  Fittingly it would be Kaitlin Anthony, who put the match away, with a well placed ball off of a Katie Winchester set.
The teams split the first 4 sets, with Swain taking the 1st and 4th by the scores of 25-18 and 25-23.  Hayesville took sets 2 and 3 by the scores of 25-22 and 26-24.