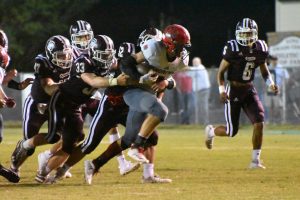 Bryson City – The Maroon Devil defense turned in one of their most dominate defense performances of the year this past Friday.  Swain cruised to a 48-15 conference win over visiting Andrews.  The fact that the 15 points is the second most the Devils have given up this season, is a bit deceiving.
Andrews scored their 15 points on the final two possessions of the game, long after the starters had left the field.  Up to that point the Swain defense had limited Andrews to 65 yards of total offense and 2 first downs (one of those came on a penalty).
The Wildcats would finish with 194 yards of total offense, with 129 of those yards coming on the final two drives of the game, both of which resulted in a Wildcat touchdowns.  Cody Long paced Swain with 9 tackles, while Conner McCoy and Jake Langston had 6 tackles each.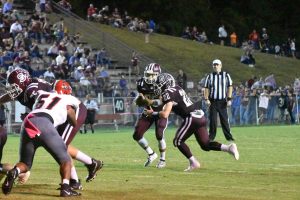 It was another impressive night for quarterback Damian Lossiah.  The junior signal caller rushed for a game high 89 yards on 14 carries, scoring twice.  Through the air, Lossiah was 3-4 for 75 yards, including a touchdown toss to Connor Hyatt.  Hyatt finished with 3 catches, including a beautiful diving catch on a 37 yard bomb from Lossiah.
Bryce Sain turned in another steady performance.  Sain, who has become the Maroon Devils workhorse, finished with 82 yards on 12 carries and a touchdown.  Sain continues to climb the All-Time Rushing list at Swain.  He now has 2290 yards, which moved him past Spencer McCoy and into 14th place.
The Maroon Devils finished with 276 rushing yards and 6 rushing touchdowns.  Lossiah had 2 and Sain, Hyatt, Carson Taylor and Colby Taylor each had 1 touchdown run.  Lossiah combined with Hyatt through the air for the other Maroon Devil touchdown.
Another area of the game that continues to show growth for the Maroon Devils is the kicking game, as both kickers are new to kicking a football.  Aiden Pond, who handles kickoffs, nailed four touchbacks, his first of the season.  Gavin Lanning, who handles extra points, had another consistent night, going 6 of 7.
This Friday the Maroon Devils will travel to Rosman for their first road conference game of the season.