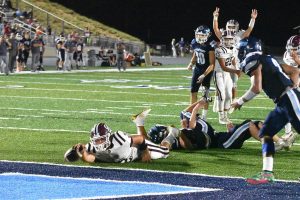 Candler – The Maroon Devils weathered some sloppy play Friday on their way to a 44-14 nonconference win over Enka.  With the win the Devils are off to their first 3-0 start since 2014.  Swain used a strong first half to build a 25-7 halftime lead, it would prove to be more of the same in the second half as the Devils scored 19 more to build their final total.
In the first quarter the Devils hurt themselves.  On their first drive Swain started with a 15 yard penalty and then fumbled after 3 offensive plays.  But from there the Maroon Devil defense, which was strong all night, forced Enka into a 3 and out situation.
Following the punt the Maroon Devil offense went to work, putting together an 8 play 69 yard drive.  Ian Brooks punched it in from 1 yard out to put Swain on the board.
The Devil D broke the Jets hearts on the next series.  Enka used 12 plays to drive deep into Maroon Devil territory.  Swain's Connor Hyatt stepped in front of an sideline out pattern on the Devils 11 yard line, Hyatt raced all the way to the Jet 4 yard line before he was tackled.  Damian Lossiah scored on the next play to give Swain a 12-0 lead.
Swain's final score of the half came on a nifty reverse play, with Donnavin Groenwold taking if 32 yards for the score.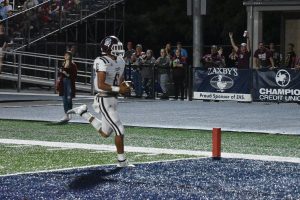 In the second half the Maroon Devils added three more touchdowns, all on runs, by Sain and Carson Taylor.
The Maroon Devils out gained Enka 338 yards to 156 for the game, with 238 of those yards coming on the ground.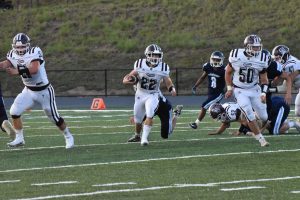 Bryce Sain paced the Devils with 81 yards on 16 carries.  Carson Taylor added 44 yards on 8 carries, while Damian Lossiah finished with 35 yards on 10 carries.  Lossiah also went 5 of 11 through the air for 100 yards.  Jake Langston had a pair of catches for 37 yards.
Charlie Lambert blocked a punt and Robert Green picked up a nice fumble recovery off of a short kickoff, both plays set the Devils up for scores.