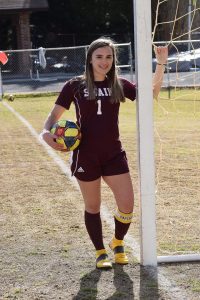 Bryson City – Swain's Kyndall Cochran signed on to continue her soccer career at Brevard College earlier this year, but the accolades rolled in this week for the record breaking senior.  Cochran shattered her own scoring record this past season with 49 goals, while leading the Lady Devils to their first ever Smoky Mountain Conference Championship.  Because of the season she had the Smoky Mountain Conference has named her as the conference Player of the Year.
Cochran has also been recognized by the NC Soccer Coaches Association as the Region Player of the Year as well as All Region.  Just this past week the same association named Cochran All State, joining a small list of 1A players to be so recognized.  Needless to say all of these accomplishments are firsts for the Lady Devil soccer program.  Isabelle Green and Kate Poss were also selection to the All Region team for their efforts this past season.
She finished her career at Swain as the school's all time leading scorer with 128 career goals.