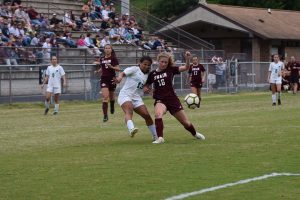 Special to the Maroon Devils Network – The Swain High Lady Devils took to the field against the Mountain Island Charter School Raptors in the 3rd round of the State Playoffs on Wednesday night. Swain went into it knowing that it would be a tough game as a Charter School in a larger populated area has won the 1A State Championship for the past 6 years. Mountain Island only lost to the number 1 team in the state 3-0 the last game of the regular season this year.
The game started with a battle of the defenses in the first half. Both teams would have shots on goal that either the goalkeepers cleared out or a defender cleared out offering support on defense. The Devils and Raptors would go into halftime tied 0-0. 14 minutes into the second half Swain would get on the score board first when Senior Kyndall Cochran would find the back of the net off a long throw in from Junior Peyton Hines. Five minutes later the Raptors would get on the board tying the game 1-1. Regulation would end with the score tied.
The two teams would play one overtime period with neither team scoring a goal. With a little over one minute left in the second overtime period the Raptors would score the deciding goal. "Overall it was a hard fought game." said Head Coach Scott Cline. "We played a very good team and the girls stayed in the game until the very end."
On defense Sophomore Kate Poss lead the way with 37 clears/steals, followed by Sophomore Bri Ross with 34, Senior Jessie Richards with 14, Junior Rebecca Duncan with 13 and Junior Peyton Hines with 10. In goal Sophomore Maddie Lay would record 11 goalkeeper saves.
The Player of the Game for the Lady Devils was Sophomore Maddie Lay. "Maddie played her heart out tonight." said Cline. "She definitely left nothing on the field."
The Lady Devils wrap up the season at 17-4 overall and 11-1 in the conference winning their first ever Smoky Mountain Conference championship and advancing further than they ever have in the playoffs. "Overall it has been a great season." said Cline. "The girls set goals at the beginning of the season and they accomplished every one they set."
Senior Kyndall Cochran wraps up her Swain Soccer career with 128 goals and 49 of them coming her Senior year. She is currently second at the 1A level in goals scored. Sophomore Isabelle Green has 29 assists on the season and is currently number 1 at the 1A level. On defense Sophomore Bri Ross has a total of 525 steals/clears and Sophomore Kate Poss has 499 for the season. In goal Sophomore Maddie Lay has 63 saves on the season.