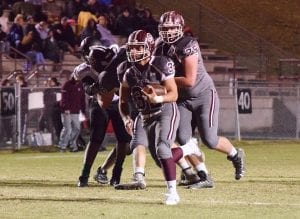 Bryson City – The Maroon Devils wrapped up the regular season last Friday with a 60-8 non conference win over the Gladiator Sports Academy.  Swain wasted no time in scoring early and often, as they posted a season high 32 points in the first quarter, then cruised to the final score.
Swain posted 2 100-yard rushers on the night, both notching the 1st 100-yard rushing night of their career.  Colby Taylor paced Swain with a career high 105 yards on 7 carries and a pair of touchdowns.  Lucas Brown also added 100-yards, finishing with 101 yards on 5 carries and a touchdown.  Eleven different players rushed the football for Swain who finished with 380-yards on 50 carries.  Junior quarterback Conner Hyatt rushed for 34 yards and went 6 of 6 through the air for 63 yards.  Hyatt also tossed a touchdown pass to Gaige Southards.  Robert Green had a career high 3 receptions for 33 yards.
Bryce Sain, who had a short nights work, went over the 1000 yard mark for the season.  Sain finished his night with 42 yards on only 3 carries, scoring once on the ground and returning a punt 45-yards for another touchdown.
On defense the Maroon Devils limited the Gladiators to only 27-yards of total offense.  Swain had 23 different players record tackles in the game.  Thomas Allen had 6 to lead the team, while Robert Green and Trip Peterson added 5 tackles each.  Swain intercepted 4 Gladiator passes on the evening.  Gaige Jones, Brandyn Salinas, Lucas Brown and Colby Taylor all notched interceptions.
The Maroon Devils will be idle this coming week, before beginning the NCHSAA playoffs the following week.