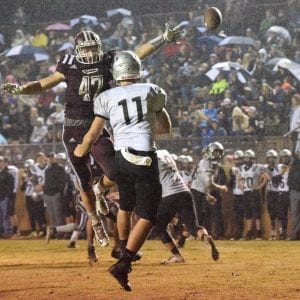 Bryson City – The Maroon Devils and Black Knights engaged in another classic this past Friday.  The two teams stood toe-to-toe in a rain soaked affair that was played mostly between the tackles.  In the end the Knights took advantage of a short field, afforded them by back-to-back penalties on the Devils, and scored midway through the 4th quarter to break a 6-6 tie and take a 14-6 win.
Robbinsville got on the scoreboard first, on the opening possession of the game.  After a good kickoff return gave them good starting field position on the Devils 44-yard line. The Black Knights marched the 44-yards in 10 plays, striking paydirt behind their outstanding junior running back Rylee Anderson's 8-yard touchdown run.  Swain's Charlie Lambert broke through again and blocked the extra point, his third such block of the season, leaving the score 6-0 with 6:44 remaining in the 1st quarter of play.
One week after the Devils found themselves on the wrong end of the scoreboard, and now facing a 6-0 hole to open the game, it was gut check time for Swain.
The Maroon Devils responded in a big fashion, and if you will a bit old fashioned.   Swain's response came in the form of a 15 play 67 yard drive, all on the ground,  and no runs longer than 9 yards.  Facing 3rd and 6 to go from the Black Knight 7-yard line, it was a nifty naked boot leg by quarterback Damian Lossiah that put the Devils on the board.  Lossiah went untouched for the touchdown. Swain's extra point was no good, leaving the score tied at 6 with 11:56 to play in the 2nd quarter.
From this point, the two defenses took over as field conditions deteriorated.
As the 4th quarter opened the Knights went on a 10-play drive that found the endzone.  Again it was Rylee Anderson who did the honors, this time from 6-yards out.  Again the extra point was off, leaving the score at 12-6.
Robbinsville also added a safety after pinning the Devils deep in their own territory, to make the final score of 14-6.
The Maroon Devils rushed for 113 yards on 44 carries, while the Knights managed 115 on 38 carries.  Bryce Sain had 42 yards on 20 carries, Ian Brooks 38 yards on 8 carries and Damian Lossiah 33  yards on 16 carries.
On defense Daniel Ammons had 2 interceptions, while Jacob Langston had 11 tackles for the Devils.