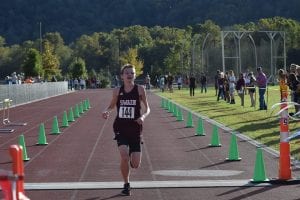 Cherokee – This past Wednesday the Smoky Mountain Conference held their Cross Country Championships.  The Maroon Devils finished 2nd on the men's side.  Senior Ryan Jenkins finished 1st on the day with a time of 16:57.  For his efforts Jenkins was named the Smoky Mountain Conference Runner of the Year.The first place finish is even more amazing when you realize that Jenkins has autism, and he says he is sending a message with his victory.
"No matter how autistic you might be, you could still win a race or two," he said. "What does autism really say? They say it's a minus. But in some cases, it can be turned into a plus."
Following closely behind Jenkins, and named as Honorable Mention All Smoky Mountain Conference were:
          Honorable Mention-
                      10th-   Dhruv Senghani     18:53
                      12th-  Brenden Ulaner       19:15
                      15th-  Emmanuel Roundy   19:29
For the girls Rebecca Duncan was the top finisher. Duncan placed 15th with a time of 24:09.
The Lady Devils who competed on the day with their times.
Phynley Meyers   24:17
Emily Ulaner        25:04
Lily Richards        25:10
Jacie Mitchell       32:43
On the men's side the following runs competed.
Keith Ammann  19:38
Jaxon McClung  20:51
Elijah Bryant       21:53