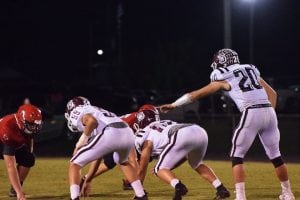 Andrews – The Maroon Devils won their 3rd straight game Friday night, to remain unbeaten in Smoky Mountain Conference play.  Much like last week the Devils used a big second half to pull away and take the win.  This time Swain scored 25 points after the break to take a 39-0 win over Andrews.
For Swain it was another night of success in the ground game, as the Devils pounded out 303 rushing yards.  Damian Lossiah turned in his second straight 100-yard rushing performance.  Lossiah finished with 131 yards on 22 carries and 2 touchdowns.  Colby Taylor added 90-yards on 11 carries and scored a pair of touchdowns as well.  Bryce Sain rushed for 77-yards on 10 carries.
Lossiah also went 3-5 through the air.  It was Lossiah who found Gaige Southards in the back of the endzone for the Devils second score of the night just before halftime.  It was Southards first catch of the season.  Jesse Waldroup and Hunter Call had the other two receptions.
On the other side of the ball the Maroon Devil defense posted it's first shutout of the season.  Andrews entered Friday having been able to move the ball and control the clock against most of their opponents this season.  But that would not be the case Friday as the Devils held them to just over 100-yards until midway through the 4th quarter.  For the game Andrews would finish with 164-yards on 43 carries.  In terms of time of possession Swain would hold the ball for 7 minutes longer.
Thomas Allen led the defense with 11 tackles on the night.  Charlie Lambert and Jacob Langston each had 9 tackles, while Hunter Burrell finished 8.  Jesus Sauza picked off a Wildcat pass for his first interception of the season.