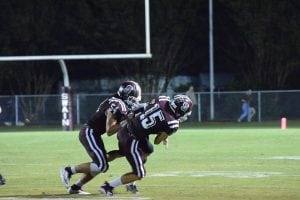 Bryson City – The Smoky Mountain Conference opened play this past weekend.  As the states greatest conference, play is always interesting and meaningful.  Swain opened with Hayesville.  The much improved Yellow Jackets and Maroon Devils went at it for four quarters before the Devils emerged with a hard fought 21-20 win to open their conference play.
Trailing 21-14, the Yellow Jackets opened the 4th quarter with a 13 play 84-yard drive, and appeared destine to tie the game, when Dwain Cook scored from 3-yards out with only 2:22 remaining.  But it would be Swain who would break the Jackets heart.  The Maroon Devils Charlie Lambert came straight through the Jacket line to block the extra point, leaving the Devils with a 21-20 lead.
The Maroon Devils ground game pounded out 282-yards on 44 carries, to the Jackets 89-yards on 32 carries.  Through the air the Jackets went 14-25 with 152 yards, while Swain was 3-8 for 27 yards.
Swain's sophomore quarterback Damian Lossiah rushed for a game high 161-yards on 19 carries, scoring 2 touchdowns.  Lossiah's touchdown runs came from 2-yards and 26-yards.  Bryce Sain added the Devils other touchdown on a 8-yard run in the 4th quarter.  Hunter Call made good on all three extra-point attempts.
On defense the Devils were anchored by Thomas Allen, who finished with a game high 11 tackles and a sack.  Jacob Langston and Jesse Waldroup had 10 tackles each, with Langston adding a sack.  Ian Brooks and Daniel Ammons each had an interception.