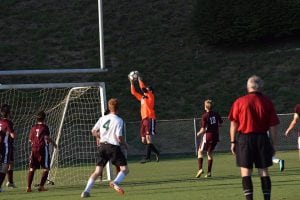 Bryson City – The Swain Maroon Devils soccer team had a strong showing against the Blue Ridge Bobcats at home this week. The Devils were hoping to right the ship after a tough conference loss the night before against Highlands. Blue Ridge came into the game sitting at the top of the conference with Hayesville. Swain and Blue Ridge battled through a scoreless first half. The second half proved to be different. The Bobcats got on the board 12 minutes into the second half from a free kick pulling them ahead 1-0. Just two minutes later Junior Jonas Trejo answered with a goal for the Devils evening the score 1-1. Regulation would end tied 1-1.
The teams would remain scoreless through two overtime periods and went on to Penalty Kicks. The teams would each have 5 kickers and the team leading at the end of 5 wins the game. If they are tied a 6th kicker will come in. The Devils started off the penalty kicks with Junior Aiden Pond finding the back of the net. Blue Ridge would answer. Next Senior Trey Bowman would find the back of the net. Blue Ridge would miss their kick making the score 2-1. Sophomore Chase Burrell's shot would be stopped by the keeper as would Blue Ridge's shot. Sophomore Zach Cline would shoot his shot high as would Blue Ridge. Junior Nate Brock would take the next shot and would miss. Blue Ridge's keeper would make his shot tying the penalty kicks at 2-2. The 6th kicker for the Devils was Senior Joey King. He would miss his shot and Blue Ridge would make their shot winning the game.
"Overall it was a hard fought game and our team showed a lot of heart." said Coach Scott Cline. "Unfortunately we just did not come away with the win at the end." On offense Jonas Trejo scored the only goal on the night. Zach Cline had 6 shots on goal, followed by Trey Bowman and Chase Burrell each with 4. On the defensive side Zach Cline led the way with 11 clears, followed by Chase Burrell with 10 and Freshman Lucas Trantham with 9. In goal Sophomore Noel Wolf recorded 21 saves.
The Swain Player of the Game was Chase Burrell. "There were many players that could have been selected for this game. We had many that stepped up." said Cline. "Chase really embraced the position he was playing and offered defensive support to his teammates when it was needed."