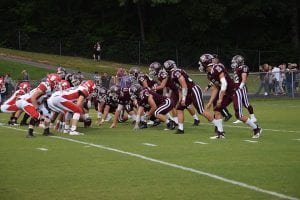 Bryson City – The Maroon Devils stormed back from an early 14-0 deficit to tie the game at 14 late in the 4th quarter.  Visiting Franklin rallied with a final drive that found paydirt on a 35 yard touchdown pass with 35 seconds remaining to take a 21-14 win.
Franklin's game winning touchdown came on a Blake Gibson to Coleman Saunders pass that was just over the outstretched hands of Swain's Bryce Sain.  It was the 3rd touchdown pass of the evening by Gibson, who finished with 100 yards passing on 8 of 14.  Coleman's other two touchdown passes came in the 1st quarter as he found Bailey Watts behind the Swain secondary.  The touchdown passes gave Franklin a 14-0 lead, which they held until the 4th quarter.
In the 4th the Devils got touchdown runs from Bryce Sain and Damian Lossiah to tie the game.  Sain paced Swain with a game high 134 yards on 25 carries, Lossiah finished with 38 yards on 14 carries, while Colby Taylor had 25 yards on 8 carries.
The Maroon Devil defense played well, particularly in the 2nd half.  Thomas Allen led the way with 11 tackles, while Ian Brooks had 9 and Jacob Langston had 8.  Daniel Ammons picked off a Panther pass, while Jesse Waldroup and Bryce Sain each had a pass breakup.