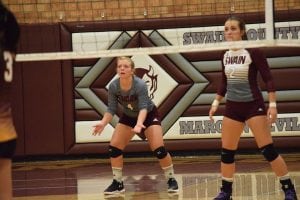 Bryson City – The Lady Devils used little time to sweep Cherokee Tuesday in Smoky Mountain Conference play by the scores of 25-6, 25-9 and 25-8.
Swain used an aggressive serve in the win, both Ashton Younce and Taylor Collins had 7 aces each, while they had 22 as a team.  Kierra Shook anchored the back row with 13 digs, while Kyndle Cochran and Kaitlin Anthony had 6 digs each.
Kaitlin Anthony finished with 6 kills, while Jenna Marr had 5, Ashton Younce and Taylor Collins each had 4.