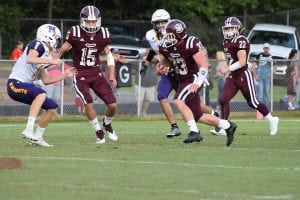 Bryson City – The Maroon Devils took full advantage of being at home for the first time this season.  Swain raced to a 35-0 halftime lead, on their way to a 47-14 non conference win over North Henderson.
The sophomore duo of Bryce Sain and Damian Lossiah got the Devils on the scoreboard first.  Sain put the first points of the game on the board at the 5:53 mark of the 1st quarter on a 29 yard scamper.  Jacob Langston recovered a North fumble on the Knights 7 yard line, following a bad snap on a punt attempt by the Knights.  It took Damian Lossiah one play to cover the 7 yards for the Devils 2nd touchdown.  Trevor Emory made good on both point after attempts to give Swain a 14-0 lead.
In the 2nd period Colby Taylor added a pair of touchdowns.  The first came on a 3 yard run that capped a 7 play 41 yard drive.  The second came on the Knights next possession.  Taylor stepped in front of a Knight pass and raced 45 yards for his second touchdown.  Taylor's interception along with Emory's point after pushed the Swain lead to 28-0.  Bryce Sain closed the Maroon Devil scoring for the 1st half by scoring his 2nd TD of the night on a 11 yard run.  The point after gave the  Devils a commanding 35-0 lead going into halftime.
On their first possession of the 2nd half the Maroon Devils marched 83 yards on 14 plays to score again.  This time senior Hunter Burrell did the honors, as Burrell scored on a 7 yard run.
Proving they know how the game is supposed to be played with a big lead, the Maroon Devils substituted liberally for the remainder of the game.
Hunter Burrell capped the Devils scoring with his 2nd touchdown run of the night, this one covering 14 yards.
The Maroon Devils 2nd unit gave up 14 2nd half points to the Knights to make the final margin of 47-14.
For the night the Devils had 326 yards of total offense while limiting the Knights to 131.  Bryce Sain finished with a game high 118 yards on 17 carries.  Damian Lossiah went 2 for 4 through the air, with both of his completions going to Jacob Langston.  Conner Hyatt found Robert Green for a 4 yard pass completion in his only attempt.  Hunter Burrell had 8 tackles and a sack to lead the defense, which also got 5 tackles each from Jesse Waldroup, Jacob Langston, Thomas Allen, Brandyn Salinas, and Ian Brooks.