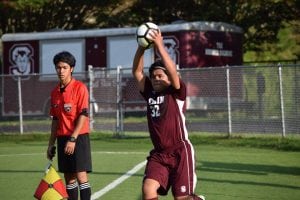 Bryson City – The Swain Maroon Devils soccer team kicked off their first home game against 3A North Henderson. It was a very rocky start for the Maroon Devils as they were on their heels the whole first half. North Henderson was up 5 to 0 at half time. "North Henderson had a very strong offensive attack", said Head Coach Scott Cline. "Coach Romano and I knew we needed to make some adjustments going into the second half."
In the second half the Maroon Devils held North Henderson scoreless while scoring two goals. The game ended 5-2. Senior Trey Bowman found the back of the next with 32 minutes left in the second half. The second Swain goal came off a free kick that Bowman took from close to 50 yards out.
On defense Freshman Travis Franklin led the way with 10 clears/steals, followed by Junior Aiden Pond  with 7, and Freshman Lucas Trantham with 5. In goal, Sophomore Noel Wolf recorded 10 saves. The Swain Player of the Game was Junior Jonas Trejo. "Jonas is only playing in his second official soccer game ever and he really stepped it up for this game." said Cline.