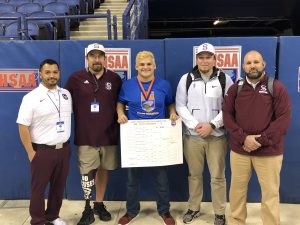 Greensboro – Senior Will Paul was determined to erase the bad memories from last year.  A year ago Paul lost in the semifinals in a controversial decision.  This year he left no doubt, defeating both #1 seeds, on his way to the ultimate prize in his sport by capturing the 220-pound State Championship.
The individual finals are comprised of the top 4 wrestlers from the East and top 4 from the West.  Paul entered as the #2 seed from the West, behind Robbinsville's Fredy Romero.
In the opening match Paul squared off against Ky'Vaughn Rome (20-5), #3 seed from the East, out of John A Holmes High School.  Rome, a senior, came in with a 20-5 overall record on the season.  Paul pinned Rome to advance to the next round.
The Championship Semifinals saw Paul face the #1 seed from the East and the brackets only unbeaten wrestler in Paden Lungrin (33-0) a senior from North Stokes.  This match went the distance with Paul scoring a 4-3 win to advance to the State Championship match.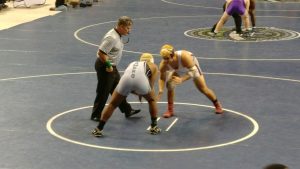 In the State Championship match Paul faced a familiar opponent.  Robbinsville's Fredy Romero (30-3), the #1 seed in the West, advanced through the other side of the bracket.  Paul and Romero had faced off five times during the course of the season.  Romero came out on top in three of those meetings.  In both of Paul's wins over Romero came by pin, while all of Romero's wins were by points.  Paul was ahead by points in the Championship Match when he pinned Romero to take the State Championship.
Will Paul finished the year with a 24-3 overall record.